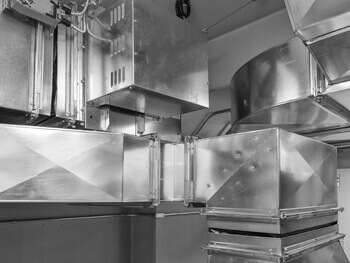 In addition to keeping building occupants safe, damper testing and maintenance can help lower costs and help ensure that fire systems comply with state fire marshal requirements. Our qualified technicians can also perform any necessary repairs that may be discovered during each inspection.
Our fire and smoke damper testing services include comprehensive damper inspections with the detailed reporting required by National Fire Protection Association (NFPA) guidelines.
Our inspection services are performed by qualified personnel and include:
Verification of unobstructed access to each damper.
Removal and testing of fusible links to ensure full closure and the ability to lock in place, if so equipped. Fusible links are reinstalled immediately after testing is complete.
Operational testing of each damper to verify that there is no interference due to rusted, bent, misaligned, or damaged frames or blades, or defective hinges or parts.
Inspection of each damper frame to ensure that it hasn't been penetrated by any foreign objects that would affect damper operations.
Help ensure that each damper closes properly, and operation is not blocked in any way.
Lubricate all moving parts.
Verify actuator operability by manually activating electric smoke dampers.
Document the inspection and testing of each damper, noting the location of the damper, the date of inspection, name of inspector, any deficiencies discovered, and corrective measures taken to address the listed deficiencies.